There are many pros and cons to working in an office compared to working at home.
We believe though that the benefits of working in an office outweigh the benefits of working from home, not necessarily financially, but physically emotionally.
The main reason people work from their homes is the financial costs of working from an office. There's the rent, heating, electric, internet and more to pay. And that's a fact. You can get cheaper offices, or you can get expensive offices. But the fact of the matter is, it does cost money to work from an office.
So, you need to do your homework, if you are looking at office space, then find out what your necessities are, and what your luxuries are. Then start looking around and visiting prospective offices. You can't get the full picture from a picture; you need to physically get there and look around. You'll know whether its right for you or not, just like house hunting.
When you have employees, having an office means that you can have everyone together in one place. Remote working can be tough to keep a check on everyone. How are they doing? Are they coping with work? It can become hard to track the progress and their performance. It can also cause communication problems, what's easier, talking to someone in the office, or firing off an email?
Working from home can be quite isolating, and lonely. Working from an office means that you will have contact with other people. It can huge benefits to your mental health by talking to other people on a daily basis.
We're lucky at the Craggs to be surrounded by some stunning countryside.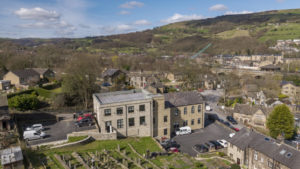 So, from your window you will see the green grass of the Yorkshire hills, and even some friendly sheep too! We have the luxury of being in the centre of the countryside, but with the facilities of the city. We have high speed internet, parking access, and we're based over a few sites (one on the top of the hills in Cragg Vale, and some in the centre of Mytholmroyd, walking distance from the train station.)
If you decide that you want to work in an office rather than from home then why don't you have a look at the office spaces we have for rent across our sites
We may look remote, but we are in fact in a prime location! We are only 10 minutes away from the two local towns of Mytholmroyd and Sowerby Bridge, and we are easily accessible from the M62. (It doesn't even matter if it snows because we have people that will clear the snow and backup generators in case the power goes out.)
We believe the best way to see about our office space is to come and visit! We're always happy to show you around and get to know about you, your business, and how we can help you with your requirements.
Call us today on 01422 888450!
We currently have a Summer special running for our serviced offices.
Act now to not miss out on this FANTASTIC offer!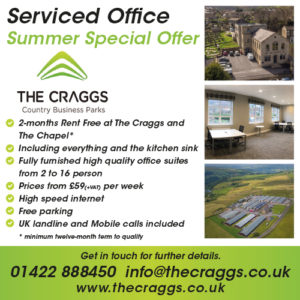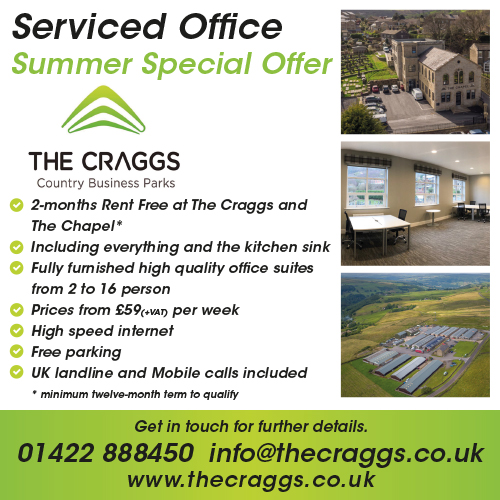 https://www.thecraggs.co.uk/wp-content/uploads/2019/08/chair-daytime-desk-840996.jpg
4067
6100
Heidi
https://www.thecraggs.co.uk/wp-content/uploads/2022/07/TCR-logoNEW2017-comp.jpg
Heidi
2019-08-19 09:02:00
2019-08-19 09:02:00
The benefit of working in an office rather than home.